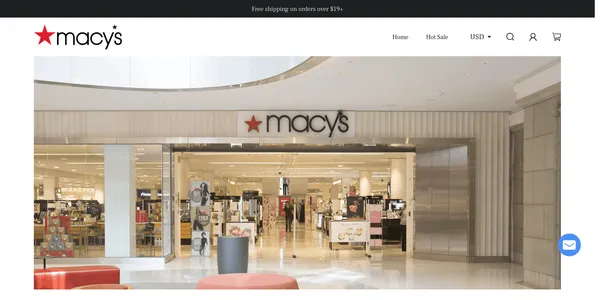 You may be curious to find out if Wewhrg Shop is a legitimate business or a scam. You can get the information you require from our Wewhrg Shop Review. We want to provide a thorough evaluation of the site and its practices so that you can make an educated decision. We strive to provide you with accurate and reliable information.
Domain Name:Wewhrg.Shop
Web site name: Macy's
Email: support@tableuous .com
Name Of The Parent Company And Address: FADEL BEATTY LIMITED, SUITE 10542 BALMORAL INDUSTRIAL ESTATE ABBEYLANDS NORTH, NAVAN METHY, C15 DD72 IRELAND
Registration Number : 79295
Hot Sale Categories and Product Categories on its Website
Products Listed On Its Website:Best Travel Companion, Best Travel Companion Spinner Luggage 5 Piece Set, Best Travel Companion Spinner Luggage 4 Piece Set, etc.
This is an online store that claims to sell the products listed above. There are many things to know about this store before you choose it as your online shopping destination.
It is a scam online store, since it is using the brand name of Macy's without having authorization from the main company, and its parent company, FADEL-BEATTY LIMITED, is running multiple scam sites such as QqoapsTop, HoboesOnline, EizknpShop, Miikkoo, LoungeflyoutletsShop, LkuiaShop, Pssm.Coniwei, ShoulderesOnline, and more.
If you find similar sites, it is possible that they will change their parent company's name and address in the future.
We all know that they are throwing a party with a huge discount. Everything is cheaper than the knockoffs from dollar stores, but this is a lie. This is a classic trick used by shady websites to get us to buy their products. Do not fall for this, people! Do your research and keep an eye out for scams.
Have you seen the design of their website? They almost seem to be begging for attention as a scam website! They almost seem to want to be included in the "How to Scam 101 textbook." Sorry Wewhrg but we won't fall for it. These details have been seen before on shady websites.
Their fake social media icon is a joke. This is a desperate attempt at appearing legitimate. Let's face it, those redirects that take you to social media are a smoke-and-mirrors trick. Shop! If you're going fake it, make it plausible!
What about the fake trust seals from McAfee and Norton? These fake trust seals are about as convincing as cats trying to bark. If you want to cheat us, then at least make an effort. This half-baked deception is not acceptable.
Customers who purchased similar products from e-commerce sites have complained about slow delivery, poor customer service and unsatisfactory after-purchase support.
Wewhrg Shop appears to be a scam.
Clicking >HERE will take you to our "Scams category" where you can read about the different types of scams. You can also navigate through our homepage and find interesting articles in various categories.
Please feel free to leave a comment about this company. Please feel free to also share this review on your social media to let your family and friends know about this online store.
Many new online shops are now claiming to offer huge discounts on a variety of items, but they are all scams. It's best to avoid the new online shops or to do some research prior to purchasing anything from them. Most of these online stores will not deliver the items purchased to their customers or they may deliver items that are completely different or low quality. Some scam online shops have even charged clients' credit cards randomly, without their consent. If you've ever made a mistaken purchase from a scam site, you should immediately contact your credit card provider or bank to protect your card information.